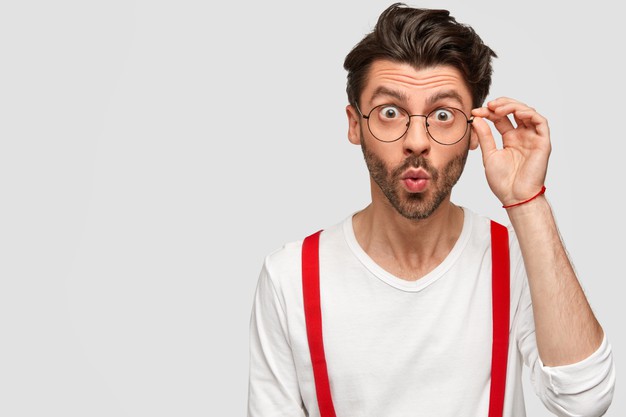 Top Five Spectacular Glasses Frames for Men in 2021
Eyeglasses have swiftly become a fashion statement. With the pandemic going on and Zoom Calls on the rise, eyeglasses have been a fashion necessity for both glasses wearers and non-glasses wearers. More and more people are trying out blue-light glasses to protect their eyes from the eye-fatigue caused by excessive use of digital screens. Eyeglasses are no longer an aid for poor eyesight but upgraded to a fashion accessory. With cool tones and eccentric attention-grabbing styles, not only celebs but us normal plebs (the 9-to-5 workers) are also donning the style statement.
Check out the top five list for the most spectacular glasses frames for men in 2021.
1. Chic Transparent Eyeglasses frames
Have you seen Robert Downey Jr. sporting half black and half-transparent glasses? The Iron man star is cool without glasses. But with glasses, he looks awesome. If you are looking for glasses to enhance your look, you should definitely try out transparent glasses. These glasses make you look chic and stylish. They will be a contrast to your look if you have a darker skin tone. Also, these glasses are picture-perfect with a dim background.
Check out online glasses from Specscart for these sets of styles.
2. The Eye Candy Wider Tortoiseshell frames
If you are looking to be the heart of the party or just want to shed your conservative shell and look more hip and cool, wider frames are your calling. Wider frames in tortoiseshell are lit nowadays. For Celeb inspiration, check out the La La Land star Ryan Gosling.
Can't compare a bloke like yourself to the male deity Ryan Gosling? Well, he's a star with genes given by god. Don't fret. Just order a few pairs of eyeglasses and try them for free at home. Or just visit a nearby store. You will see and believe for yourself.
3. Smartypants Round Frames
The Harry Potter frames. Who hasn't seen Harry Potter Movies? Or at least heard of it, if you were not living on Antarctica or Mars. Round frames give you a geeky appearance. If you want to look intellectual, hardworking, and goody-two-shoes, round frames are for you. If you have a square or heart-shaped face, you can confidently wear these glasses. Good qualities of your face will be highlighted. Pair it with a turtleneck or high neck outfit to give off a mysterious vibe.
4. The Confident Browline Frames
Perfect glasses for a diamond-shaped face. The Browline frame highlights your eyes and balances out your facial features. You will look confident and assertive. The upper half in a darker tone like black, brown, or blue with the lower half-transparent or rimless gives off a very cool look. It is a must-try style. Buy a few pairs of cheap prescription glasses in every style, if you are getting confused with what to buy. You can have a free home trial to ease your decision-making.
5. The Classic Rectangular frames
Last but not the least, the classic rectangular frames. Mostly the reserved kind chooses this safer option. It is always chic, always in fashion, and fit for all occasions. You can give off a confident and industrious look paired with business formals or a down-to-earth look wearing casual clothes. Celeb Inspiration- Way too long to mention.
Honourable Mentions
Many styles are spectacular and less chosen because of their uniqueness. These glasses for those who make their style.
1. Wayfarer Glasses in a lighter tone, off-white or beige
Unisex glasses with lighter tones look softer and inclusive. Men generally avoid these colours. But these colours give you a cheerful and fashion-savvy look. If you are looking for giving out an easy-going and extrovert look, try lighter tone glasses.
2. Aviator Style
The Lightweight titanium frames with a flat top and thin rims. These glasses give you a strong look. If you believe in the 'less is more' style, aviator-style is one to have. 
Check out a wide range of Aviator style spectacles online from Specscart priced at a very reasonable range.
3. Old School glasses
More into vintage fashion? The old school styles are still in the trend. Acetate frames have become pretty common nowadays. That doesn't mean metallic frames have gone out of business. Metallic frames are still out there. The vintage lovers, conservationists and those who set their style are still donning these fashion statements. Metallic frames in rectangular, round, square in golden, silver, or black colour.
Stop dilly-dallying and check out your next pair of cheap prescription glasses from Specscart. You can have a free home trial on glasses and your order will be delivered within 24 hours. We at Specscart provide cool and amazing glasses frames in an affordable range. When you buy from us, you won't be dissatisfied.