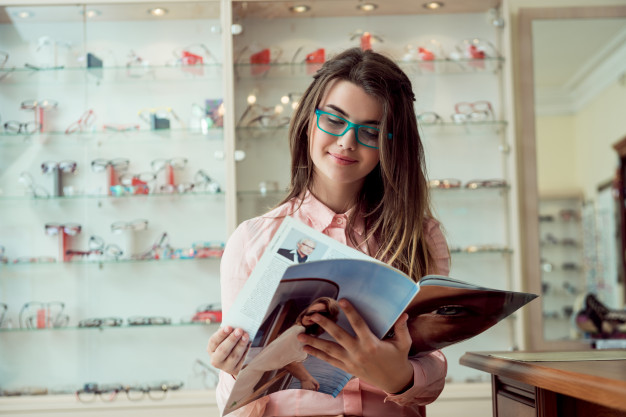 Quality and Clear prescription glasses at frugal prices – Where to find them?
Glasses with good quality are mostly high priced. Glasses with quality lenses and stylish frames are even more expensive. To get glasses at frugal prices, you either compromise with the quality or with the style. What if you don't have to compromise and you get stylish glasses frames in quality lenses at affordable prices. It's a win-win scenario for you, isn't it? Glasses and sunglasses from Specscart come at unbelievingly frugal prices without compromise on the quality and style.
Single Vision Lenses
Whether you have myopia or hyperopia, you can get your reading glasses, farseeing glasses at minimum cost. If your prescription power is between 0-3, you get standard lenses for free for your glasses. For high power glasses made with high index lenses, you will need an additional £25. Overall you won't pay too much for your clear prescription glasses and your glasses will come under £50. You don't believe it. Check out the Specscart site to know more.
Varifocal Lenses
Varifocal glasses are expensive. However, they negate the need of caring around two glasses all the time. There are bifocals that can be used for presbyopia but it doesn't give the same comfort and benefit that varifocal lenses give. Also, most varifocal lenses are hard to adapt to.
Varifocal glasses from Specscart are standard varifocal lenses that can help in reading, working on computers and also driving. These lenses are specially designed to aid your vision in all distances while doing any kind of activity without adjusting your posture a lot.
Screen glasses
Usage of computers and other digital devices has increased a lot. This has caused overexposure to blue light or high energy visible light which can cause harm to your eyes. Blue lights can cause you eye strain, fatigue, dry eyes, blurriness, headaches, and insomnia. If you also spend a lot of time on digital devices and also experiencing these side effects, then you should get screen glasses to protect your eyesight. Screen glasses are made with blue light blocking lenses. These lenses block blue light emission and provide you with a clear and comfortable vision.
Specscart provides X-Blue UV which block 99.9 per cent of blue light emission. These glasses are best for use as screen glasses. Also, these lenses come at a price of £25.
Transition lenses
Photochromatic lenses or transition lenses are very convenient lenses but very expensive ones. With transition lenses, you do not need to carry around sunglasses. With these glasses, you can see clearly and comfortably, block harsh sunlight, glares, bright light, neon lights, and other harmful light. These glasses can top off as computer glasses as these can block blue light as well. Also, you don't need to worry about harming your eyes in sunlight from UV rays as transition glasses block UV rays effectively. With one pair of transition glasses, you can get the benefit of high-quality sunglasses, blue light glasses, and clear anti-glare glasses. It is pricey but cost-effective. Also, with a stylish frame, you don't have to worry about your looks.
Specscart offers transition lenses for only £55. Get a stylish frame at a cheap cost and you will be able to afford stylish and effective transition glasses under £100.
Lens Coatings
Glasses also need protection. Your high-quality lenses will degrade if they are made of cheap material and no protective coating. Lenses that are not scratch-proof or shatterproof are useless. Glasses are easy to get dirty as we use them a lot and we can be careless with them. This leads them to get scratched easily. With scratch-proof and shatterproof lenses, you can keep using your glasses as you always do and still use them for years. It becomes a nuisance if your glasses always get scratched or break too often.
Anti-glare coating is also a minimum requirement for glasses. You do not need anti-glare coating on transition lenses. However, if you are using regular glasses, get a layer of anti-glare on them. It will protect your eyes from glasses, sudden flashes of bright lights. This type of glasses helps in reducing the strain of the eyes.
Another important and the most important coating is UV 400 coating. If you live in a high UV index region like the UK, US or southern America, you need glasses and sunglasses with UV protection. Only these glasses can protect your eyes from the harm of the UV rays.
Specscart gives these coatings for free on its standard lenses. You can get anti-glare, anti-UV, scratchproof, and shatterproof glasses for free from Specscart. Just choose your favorite frames and get your stylish glasses and quality lenses at minimum prices.