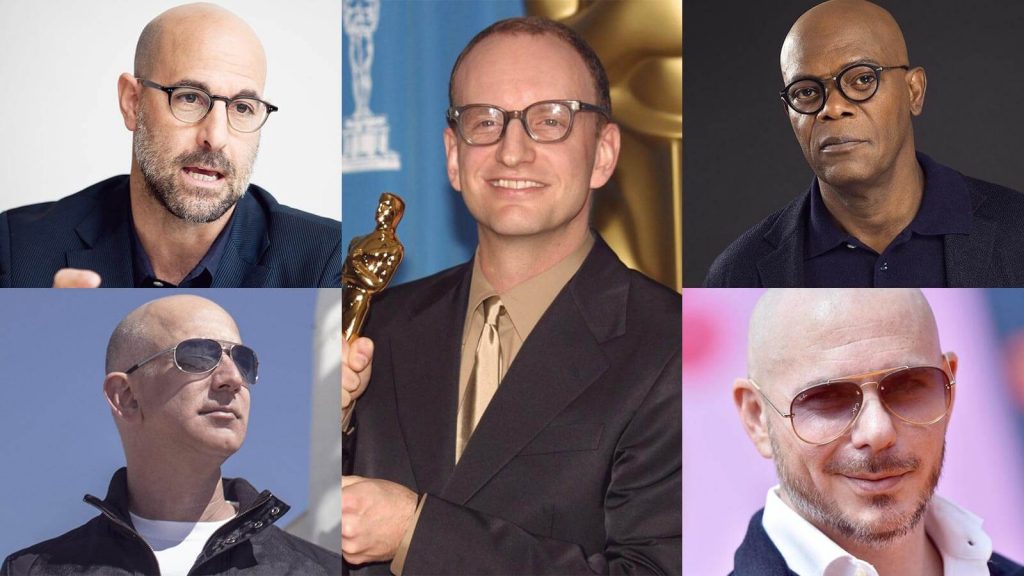 How to Style Your Shaved Head With Glasses?
Although the main job of glasses is to give you a better vision, choosing frames that suit your face shape, hair colour and skin tone is significant to elevate your look.
Finding the right pair of men's glasses from the different frame styles is challenging enough especially when you have a shaved head. A bald head can draw a lot of attention due to so much bare skin over it. 
Rocking it can be a personal choice which we understand but, it may give off a bland look when not supported with other stylish accessories. Styling your look with glasses is a good idea to make the most out of your bald look.
There are countless designer glasses online to accentuate your bald look and add flair to it. 
Let's get to know what glasses can actually do for your look.
Bald and beautiful with glasses
Our hairstyle is one of the major components of our appearance but if you are bald, you obviously don't have this benefit. Although being bald saves you a lot of money as you don't have the need to spend on hair care products and hair cuts, it certainly takes away a major styling option that is enjoyed by people with a full set of hair.
Not having hair on your head exposes your face shape like nothing else. This is where having a pair of men's glasses comes to your aid. You might have thought that you have a round face, but once you shave your head off, the reality could be a little different. 
Although you don't have the choice to alter your face shape with your hairstyle, you can use glasses to do this job instead.
When you are looking for glasses frames for men, make sure you go with one that offers what your face lacks. For example, if your facial structure is circular, you might want to balance it with angular frames.
However, if only one look is too boring for you, invest in different pairs to do justice to your every mood. Buying multiple pairs doesn't have to empty your wallet. You will find a variety of cheap glasses with good frame material and lens quality if you search online. 
Glasses as per your face shape
The importance of considering your face shapes when buying glasses cannot be stressed enough. Even if you have bought the most expensive online glasses, they won't be able to save your look if they are clashing with your face shape. 
Being bald puts more focus on your face shape so you have to be extra careful while picking a frame. Choosing the wrong frame will highlight the features you want to soften.
When buying glasses frames for men, make sure the shape is contrasting to your face symmetry so that your facial structure looks well-balanced. 
Here is a quick rundown of what frame shapes will sit well on your particular face shape.
Round face
Being bald can make your round face appear as too circular. This shape is generally characterized as having soft features, wide hairline, and high cheekbones. Wearing angular glasses in shapes such as rectangular or square will bring a nice contrast to your curvy features.
Square face
This face shape lacks curves and has a wide and strong jawline. Men's glasses in round shapes are the safest bet to make your face look curvy.
Oval face
Being the most versatile face shape, oval faces have features that are neither too soft nor too sharp. This is why most frame styles will suit oval faces just right. However, going for frames that are too round might make your face appear small. Even if you go for round glasses, make sure that the lenses are square or rectangular in shape.
Heart-shaped face
These faces have a wide forehead and are narrow towards the jawline. Try out frames that are wider at the bottom such as lower rims or wayfarers. This will add some width to the lower third part of your face while balancing out the upper portion.
Triangular face
A broad jawline and pointed chin are the main characteristics of a triangular face. Wearing browline glasses with embellishments at the top of the frame will give some width to your narrow forehead.
While glasses are an obvious choice for people with low vision, you can rock them to boost your style even if you are blessed with a 20/20 vision. Thanks to the revolution of the eyewear industry, finding cheap glasses online that don't hold back on quality or fashion appeal, is not a dream anymore. 
Glasses for bald men
Styling your look when you are bald becomes a little easier with the right pair of eyewear. There is a variety of that will complement your personality and take the attention away from your shaved head.
Whether you opt for a local eyewear retail shop or buy designer glasses online, the following styles will go effortlessly with your bald head.
Black rectangular frame
Black glasses frames in a rectangle for men are an obvious choice no matter if you are getting ready for an office meeting or a night out. These are a classic shape that will make you come across as sophisticated and intellectual.
Half-rim frame
Everybody loves a retro look. It gives you an appeal that is timeless while enhancing your style and half rim glasses are meant to do that. However, if you want a contemporary hint to your eyewear, you can go for half-rim clear frames.
Black metal aviator frame
Not only these glasses are durable, but they are also ultra-stylish as well. We know that they are not quite as thick as horn-rimmed frames, they are surely worth a shot.
While glasses are an obvious choice for people with low vision, you can rock them to boost your style even if you are blessed with a 20/20 vision.
Rounded square frame
These glasses are most suitable for bald men as they give sharp angles to your round head; the slightly curved corners see that the contrast is not so evident.
Tortoiseshell frames
If a single colour is not enough for you, these tortoiseshell frames in different colour palettes will give you an interesting look that you can carry anywhere. These frames are so popular these days that you would want same day delivery for your glasses.
The final thought
Your bald head should not strip you of various styling options. It's quite fascinating how a pair of glasses can change your look. Even if your vision is doing just fine, you might want to look for fashionable frames to style better.