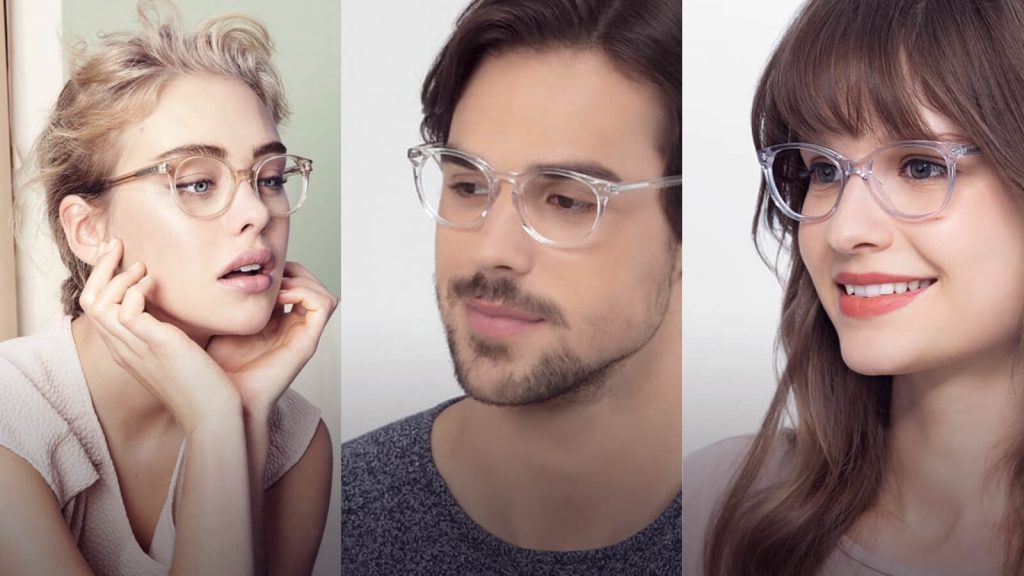 Crystal frames: Top Eyewear Trends for
When it comes to eyewear trends for 2021, crystal frames or clear glasses can be seen dominating the market, and it is not going anywhere anytime soon. Crystal glasses have translucent frames and are popular for their subtle look and ability to go with any outfit.
Whether we talk about glasses for fashion or prescription, crystal frames are one of the top trends that you must watch out for this season. As these glasses are colorless, they are desirable for both men and women.
Although clear glasses have been around for some time now, they have never been so popular. Not only are these frames spotted on the fashion runways, but they can be found in the wardrobe of fashion enthusiasts.
No matter what you call them – crystal, clear or translucent, these glasses are perfect for everyday use and well-suited for people with different lifestyles.
If you are looking to buy glasses, read below to know why clear frames should be your next pick.
Why are crystal frames so popular?
Whenever a trend takes birth, people come up with different reasons to justify it. But this is not the case with clear glasses; They are popular for a reason. With their modern approach to eyewear, clear glasses are like a breath of fresh air amidst different eyewear trends. For example, transparent cat-eye women's glasses are perfect if you want a retro-style in modern design. 
Clear frames are loved for their youthful look. If you have a light natural color palette and like to keep things simple, these frames are for you. Unlike other frames like tortoiseshells, these glasses won't take the attention away from your beautifully defined features as they are almost invisible from a distance.
The fashion industry has been experimenting with clear colors and pastel-hued accessories and eyewear is following its footsteps. If you want a modest look that is also in style, buy glasses with clear frames.
Choosing the right pair of crystal glasses
Clear frames are available in different styles which makes picking the right one even more challenging. If you want to order your glasses prescription online, you have to find the pair that is the best match for your specific face shape.
A smart way to find glasses for your face shape is to go with the pair that have features contrasting to your facial structure. For example, if you have a round face, clear frames in angular shapes like rectangular or square are the top picks for you. On the contrary, if your face is more on the angular side, round or circular frames will suit you best. Whether you are shopping for glasses for men or women, taking the face shape into account is a must. 
If you want your clear glasses to stand out, oversized frames are the way to go. The unusual size will make your glasses visible from afar while making a dramatic statement. Whatever frame you pick, make sure that they fit perfectly on your face. However, if you like the comfort of online shopping and seeking the best designer glasses online, take your facial measurements to get the right nose bridge width, lens width, and arm's length.
Specscart's crystal frames
1. Crystal Grey Round Glasses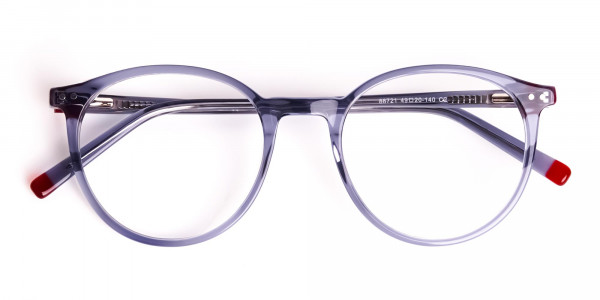 A perfect mix of a retro shape and modern color, these glasses are cool yet sophisticated. Made with high-quality acetate material and protective lens coatings, this frame is strong and durable so you can rock it every day. The super-thin frame feels light on the face and is designed for a comfortable fit. Try these frames. If you want to buy glasses online that are simple and minimal in style, this is the frame for you. 
2. Crystal Clear Trendy Glasses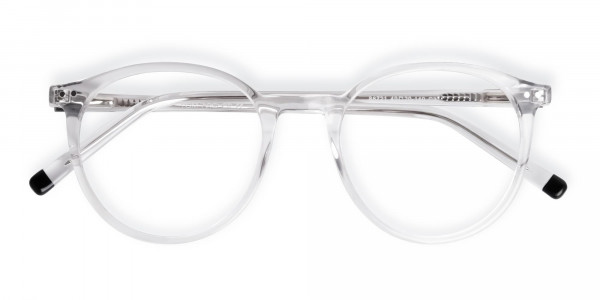 This is a transparent frame so it flatters most face shapes and every skin tone. They don't overpower your facial features so you get more freedom to experiment with different shapes and sizes. The see-through look is comfortable for both men and women who want a classy look. Made with acetate, the frame is lightweight, modern, and biodegradable.
3. Transparent Purple Round Glasses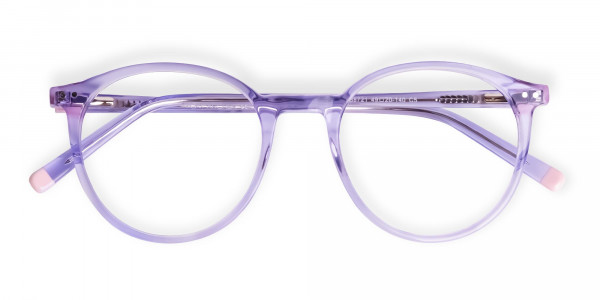 Refresh your wardrobe with lovely lilacs. This frame is the very definition of youth and is apt for teens who want to make a subtle fashion statement. Cat-eye women's glasses in transparent purple frames are best for a chic look. This look is apt for both casual and business attires. 
4. Transparent Orange Round Glasses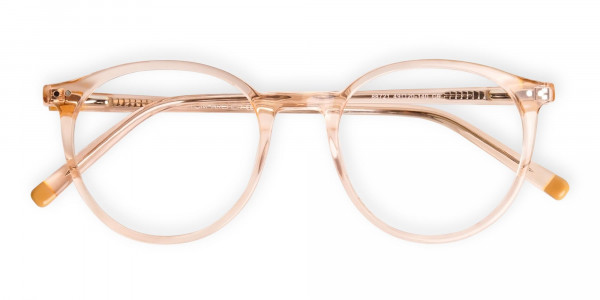 Nothing is more refreshing than this warm shade of orange. If you don't want your transparent frames to blend in your face, these are the glasses that are meant to stand out. With saddle-nose bridge and spring hinges, these glasses are made for the daring you.
5. Crystal Clear Pink Round Glasses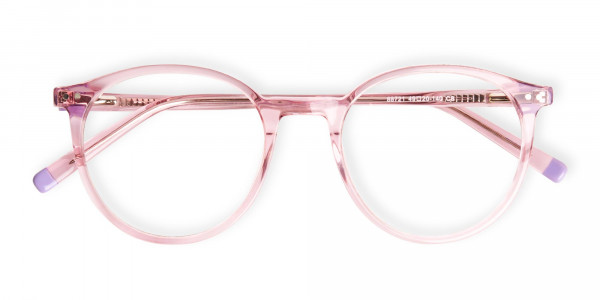 This pink frame with minimal detailing is all things pretty and fresh. If you are a fan of elegance and sophistication, a transparent frame in a light pink shade is the go-to choice. The delicate pink is best whether you are heading to your office or on a date night. Rock this frame with simple outfits and minimum patterns and let your simplicity speak for itself. If you are a modern diva, style these glasses with similar shades of pink and bright footwear to look fresh off the runway.
6. Transparent Blue Round Glasses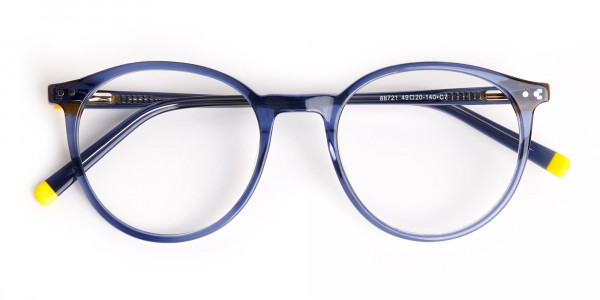 Being an earthy shade, these frames have a versatile appeal. Rock these glasses with your fun casual outfits and get ready to have all eyes on you. Suitable for your angular face shape, this frame looks great when paired with cool-toned outfits.
How to style crystal frames?
How you choose to style your frames is completely up to you. But, matching your clear frames with light-colored outfits can help to bring out their true beauty.
Crystal frames whether neutral or faintly-tinted, will draw attention to your eyes and add shine to your face. If you are wearing them in a professional environment, the frames will enhance your outfit while giving off a serious impression.
If you want to keep your makeup bold, you might wanna dial it down a bit when you are sporting crystal frames. If you like to own different pairs for different outfits, you can opt to buy cheap glasses online so you can own more frames for less money. 
The final word
Whether you want to keep things simple or dress to impress, crystal glasses will get the job done. We at Specscart offer clear glasses that you can also turn into blue light glasses by adding the blue light filter on the lenses. 
We are dedicated to simplifying eyewear for our customers. If you are looking for same day delivery of your eyewear, our 24-hours dispatch mechanism has enabled us to get your glasses delivered the very next day you place an order with us.