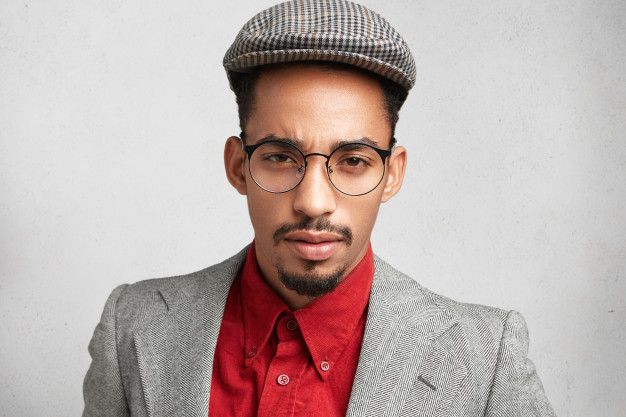 Best Men's Glasses Styles For Oval Face Shapes
Finding men's glasses that look good on your face shape can be complicated. With so many shapes, styles and colours, the choices are endless but finding glasses that will suit your facial structure may take a while.
Glasses are the most prominent facial accessory. So you would not want to invest in just any random frame. Knowing your face shape makes eyewear shopping so much easier even when you are buying prescription glasses online.
Although there are so many frames out there, not every style is going to look good on you. Some will suit better on a square face while some might fit perfectly on oblong faces. When we buy outfits as per our body type, why don't we give the same consideration to our glasses? After all, accessories make the outfit.
We know you want to try trendy frames but wearing what looks good on you is better than going all in for every other trend. Though there is not one ideal face shape that can rock any frame style effortlessly, oval faces are close to being ideal.
They can pull off most of the glasses as long as they stick to the conventional styles. Experimenting with unusual frames might not be a good idea even for people with an oval face. An oval face is generally admired for its perfectly proportioned features. Wearing something like oversized glasses frames for men might disturb the balance and won't look good as well.
Do you have an oval face? It's fine if you don't know the answer; most of us don't. Figuring out the shape of your face is not rocket science. If you don't know how to do it, read further.
How to measure an oval face?
Stand in front of a mirror with your head straight. One of the most prominent features in an oval face is the beautiful curved jawline. Also, your forehead should be slightly wider than your jawline with cheekbones that are placed a bit higher on the face. If you think that you have these features, get ready to try stylish frames in different shapes that are made just for you.
Not only are you lucky in the matter of frames, you can easily rock any hairstyle as well. To keep the natural balance, pick glasses that are as broad as the broadest area of your face.
Glasses for men with an oval face
Whether you want prescription glasses or cheap glasses for fashion, the right frame can amplify your look as long as you put it on. 
Here are some of the frame styles that would absolutely dazzle on your oval face:
Rectangular glasses
As we have discussed, an oval face has soft features that are evenly balanced. Wearing angular glasses such as rectangular frames can add structure to your face while not clashing with your natural facial symmetry. These are versatile frames that are classic but also work well in just any occasion. If you want a contemporary touch, look for men's glasses in rectangular frames with modern detailings. However, if you are more of a conservative type, try these frames with round lenses.
Square glasses
Square glasses frames for men are the epitome of angularity and thus perfect for people with oval faces. Whether you want something for everyday styling or need a frame to stand out, go square go right. It will provide a dimension to your face while giving you a sophisticated look. The contrast that you will get from these glasses is enough to upgrade your overall look. If you want a frame that you can wear in any environment, pick neutral hues such as black, grey, brown or silver. However,  you can take the freedom of adding colours to your frame and experiment with your look. 
Aviator glasses
Remember when we said that an oval face is almost perfect for different frame styles? We didn't mean you to make a bizarre fashion choice that is not your style. Sticking to classic aviator glasses for men is a wise choice as these glasses flatter almost every face shape. These glasses are slightly wider around the side of your eyes, they will look good on you while accentuating your already well-balanced facial structure.
These styles are not limited to only sunglasses anymore. You can look for aviator frames even when you are shopping for online glasses. 
Round glasses
Oval faces can pull off round frames as well. Retro frames in round shapes are a good choice for people who like a nostalgic touch in their look. As an oval face is slightly rounded, frames that are too round will create a balance. The beauty of these glasses is that you can wear it with both formal and casual outfits.
Tips when choosing men's glasses
Steer clear of oversized frames as they will take the balance away from your face.
Don't go for frames that are too small if you don't want your face to appear too long.
Try out different colours to add dimension and shape to your face.
If your face is slim, go for rimless or semi rimless glasses. 
Glasses with beautiful designs and embellishments at the bottom will enhance the beauty of your cheekbones.
Pick colours that match your skin tone and undertone. You can also consider the colour of your eyes when buying frames that will suit you.
If you are shopping online to find online spectacles, make sure you check the material and quality of the lenses so your frames are more durable.
The universal face shape is able to sport any pair of glasses and look amazing. While most of the frames are going to look good on you, good is not what we want for you. We want you to look fab and that will only happen when you will wear stylish glasses that are meant for your particular face shape. Don't feel sad if your face shape is not oval. There is a frame out there for every single shape.