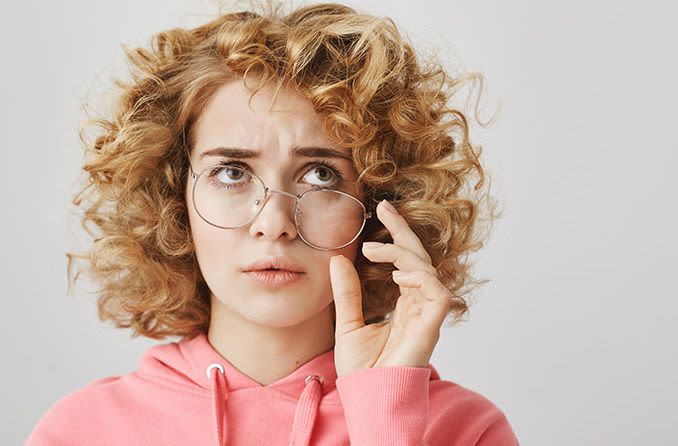 The Ultimate Eyewear Guide – Know what glasses size suit you the most
Size does matter.
Like a loose pair of jeans will slip off and be a source of life-long embarrassment for you, a pair of loose glasses will be uncomfortable and counter-productive.
Slipping-off glasses will be a hindrance while driving, or doing any sort of activity. Your reading glasses will be annoying if you have to adjust them on your nose all the time. 
Activities like driving need your full attention. Even a tiny distraction from your glasses can be disastrous for you.
Need to know your three sizes
If you are buying a spectacle online, you might get confused by which size will fit you the most. To find the best fit for your eyewear, you need to find out the three sizes of your eyeglasses. 
Lens Width
Bridge Width
Temple Arm Length
If you already are an eyeglasses-user, check your frame for its size. Most glasses size are printed on the temple of your glasses.
For instance, 51-16-142 is printed on your glasses. The first one is your lens width, the second is the bridge width and the third one is the temple arm length. Sometimes four sizes are printed. The fourth one is the length of the lens.
If your glasses don't have the print, you can simply measure it with a ruler.
Some glasses have four sizes mentioned on them. The fourth number is the length of the lens. This site is mentioned mostly for bifocals or varifocals.
Trying glasses for the first time
If you are looking for online prescription glasses for the first time, then measure your pupil distance. Pupil Distance is the measure of distances between the center of your pupils. Just stand 8 inches away in front of a mirror and place a ruler over your eyes. Measure from the center of one pupil to the other. 
You can ask your friend to help you take your measurements. If you are farsighted then subtract 3 from your result. You might not get an accurate reading if you are myopic or have astigmatism. Also, your pupils dilate when they are looking at closer objects or in dimmer light, making it difficult to find the center of your pupils.
For some people, the optical centre for both eyes differ. You can measure dual PD in such cases. Dual PD is measured from the centre of the pupil to your nose bridge. This gives a more accurate reading for your optical centre.
Pupil distance helps in determining the optical centre of your lenses. Aligning lenses with the optical centre will let you have a smoother vision. Faulty PD measurements will pain your eyes and make your vision blur.
It is better to let the professionals do the job. Get an eye test and find out your pupillary distance.
Glasses size for Adults
For adults, there are three size type of glasses are available:-
1. Small fit – These glasses have a lens width below 50. If your face is small you should go for small frames. You can place the smaller side of the credit card over your one eye. If your eyes are smaller than the credit card, then try glasses of small sizes.
2. Medium Fit – Glasses with lens width between 51 and 54. Place the smaller side of the credit card on one of your eyes where one edge touches the nose bridge. If your card roughly touches the corner of your eyes, then go for a medium fit of frames. This size fits most adults.
3. Large Fit – Glasses with lens width above 55. If your eyes are larger than the smaller side of the credit card, then wear large size frames.
Sunglasses size for Adults
If you have already tried the credit card test, then you know which size to look for. If you need a small size of sunglasses, go for sunglasses with a lens width below 55.
For medium-size sunglasses, try sizes between 56 – 64. For a larger fit, wear sunglasses with a lens width above 65.
Glasses size for children
If you are looking for online glasses for your child then refer to this chart below to know the right fit of glasses –
| | |
| --- | --- |
| Pupil Distance | Lens Width |
| 42 to 48 | 37 to 38 |
| 48 to 52 | 40 to 42 |
| 53 to 55 | 43 to 45 |
| 56 to 58 | 45 to 47 |
| 58 to 62 | 47 to 52 |
Temple Arm Length also matters
Have you ever found the temple arms too short or too long for your face? Then standard-sized glasses are not made for you. Your face size is different from others. Temple arm lengths come in 120-150 mm lengths. If normal-sized glasses (135, 140, etc) or cheap prescription glasses are too short then try 145 or 150 sized glasses frame. You can wear shorter frames if you find normal sizes too big.
Bridge Width
The bridge width is the measurement of the distance between the two lenses. The part that sits on your nose bridge. If your eyes are close, try to wear glasses with a smaller bridge and vice versa.
Apart from the size, you need to take comfort into count. Your glasses will sit on top of your bridge. Make sure that the nose pads are comfortable and do not sit too tightly on your nose. Hinged nose pads are comfortable to wear as you can adjust the nose bridge if it gets too loose or tight.
Lens Length
For Varifocals, the length of the lens is important. Varifocals are difficult to make for smaller sized frames. In this type of glasses, there are regions for viewing different distances. Varifocals are three different types of prescription glasses made into one. The eyeglasses maker has to keep in mind several optical centres for your glasses. With smaller sized glasses frame, it is difficult to make.
If you are using varifocals for the first time, then go for a larger lens length. It will facilitate your viewing and you will easily adapt to using such glasses.