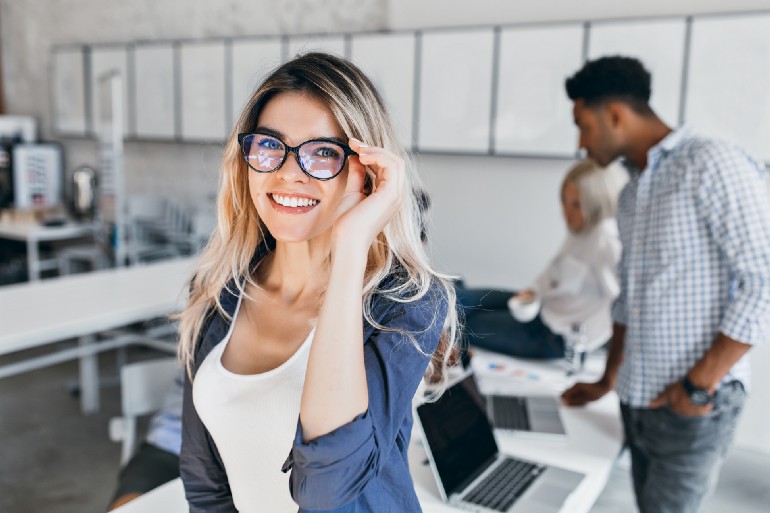 Secrets That Your Glasses Reveal About Your Personality
If you know anything about the history of glasses, you would know that they weren't always viewed as a popular fashion accessory. Glasses for fashion used to be a remote idea that was only feasible in the galaxy far far away.
Specs were only used as a means for vision correction and anybody who wore them was either considered a nerd or a bookworm. 
As portrayed in hollywood movies and shows, glasses represented shy or reserved souls who couldn't do no wrong. Or they were used to portray insecure bespectacled ladies in rom-coms who removed their glasses to unleash the sexy diva within. 
But, this negative reputation of glasses was soon refuted with the arrival of designer glasses frames that were everything from cute, stylish, nerdy to sexy. 
It's a different story now. People with 20/20 vision wear frames like transparent glasses or tortoiseshells to make a strong fashion statement. 
The psychology behind glasses 
Glasses shifted from being a vision necessity to being a staple fashion accessory. Today, the choices are abundant with different styles of frames in different designs and colours. 
No matter if you wear glasses for fashion or specs with a prescription, they are saying a lot about you while sitting quietly on your face. Your eyewear holds the power to make you look trustworthy, honest, intelligent, or sophisticated.
Apart from sending cues about your personality, your designer glasses also help others to form a perception of you. They open the door for subconscious evaluation and here is what people might think of you.
You are easy to approach
Did we mention that glasses make you look more intelligent? So you better not act all surprised when people come to you to seek your valuable opinion on something. Especially if you are sporting transparent glasses or hipster frames. 
Your eyeglasses help forming people's perception of you. It is easier to strike up a conversation with someone who appears smart and trustworthy due to their specs than a non glasses wearer whose personality can't be predicted.
It's almost as if your glasses yield some kind of special powers. Also, wearing glasses is a way to tell the world that you are not embarrassed by your flaws (in this case, your imperfect vision). Instead, you are rocking your glasses with pride to let out your human side. What more does a person need to be approachable?
That becomes your signature look
We all have a signature look. It is described around the way we usually style ourselves. For instance, if you like to go bold on accessories, that becomes your signature style. 
Whether you wear designer glasses in chunky frames or specs in thin titanium frames, they are making a statement about your style.
When you sport glasses every day, they kind of become your signature look. We are not saying that they define the type of person you are. But, they become an inseparable part of your overall appearance.
The signature look is not only for people coming from creative or artistic fields. You can be a student with transparent glasses or wooden frames and they become your signature look. 
It is not a secret tha glasses give a powerful boost of self-confidence. So, if you used to shy away from wearing them before, just bear in mind what wonders they could have done for your self-confidence and esteem. 
They highlight your best features 
What glasses you choose to wear is a matter of personal choice and style preference. We all want our individuality to reflect in our appearance. 
Another good thing that comes along with wearing designer glasses is that they help you put your best features forward. If you have blue eyes, you can emphasize the colour with frames in blue shades or muted tones. And if there is a facial feature you would like to hide, glasses can do that as well. 
In case you want your eyeglasses to just sit there without interfering with your overall look, transparent glasses or clear frames will do just that.
There are so many different types of frames out there. It all comes down to your features, skin tone, and lifestyle to choose the right one for you. If you fancy a rather minimalistic look, rimless frames are the best choice. Picking subtle frames when buying reading glasses online can be great too. 
People identify you by your glasses
Eyeglass wearers have the advantage to distinguish themselves from the crowd. Thanks to their glasses, their individuality is far more prominent than those who don't wear any.
If you like to wear those big chunky frames in weird patterns and unique designs, people will recognize you in a second no matter where you go.
Just like tattoos and lip piercings create a unique look, glasses are made to do just that, even more so, when you wear statement glasses. Transparent glasses might not be a smart choice when you are looking to distinguish yourself from other people. 
For a unique look, don't hesitate to go for intimidating frames like oversized glasses or quirky geometric specs. You can do that to your readers as well. You will find a variety of frame styles when you search for reading glasses online. Pick out a unique and bold style to stand out from the crowd.
They help you in your career
Since your glasses give out an intellectual vibe, they help you in situations like job interviews and things like that. Sounds a bit silly, right?
Wearing glasses makes people think that you are one of those intelligent people who will be the right fit for the job. If you are a man, stick to rectangular or square frames in neutral shades to do the interview right. If you are a lady, designer glasses cat-eye frames with modest curves and black colour will bode well with your career progression. 
Now that you know what glasses are capable of, do you need any more reason to wear them? Even if your eyes are doing just fine, there are countless glasses for fashion out there for you.