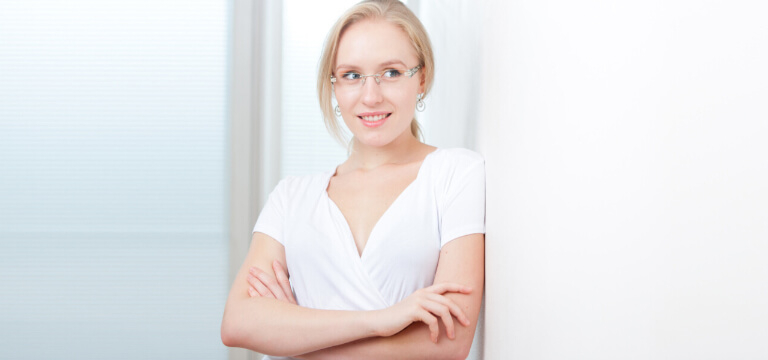 Grab The Collection of Rimless Glasses Frames From Specscart
One common concern that every glasses-wearer has when buying a new pair of glasses is the weight of the frame. Since your poor vision needs you to wear your prescription glasses for the most part of the day, you are always looking for frames that would feel light on your face.
Sporting a heavy metal frame all day can take a toll on your nose. Thanks to rimless, wearing specs has never been more comfortable. 
As rimless glasses don't have a frame front, they eliminate the extra pressure on your face. When paired with titanium, lightweight, and flexible metal, the frame will sit comfortably on your nose and bend along the natural curves of your face.
Not only this, rimless glasses are extremely versatile in a way that they go with every outfit and suit every face shape and skin tone. They make for an attractive office wardrobe item and can be sported to parties as well.
If you are all about the comfort when it comes to glasses, rimless eyeglasses in titanium frames are the best options to choose from. For an all rounder frame, go for rimless and for a nice fitting and added comfort, pick rimless in titanium frames.
Rimless glasses benefits 
Why most people fall for rimless style is because they don't alter their look but only improve it. Since these glasses are frameless, it won't clash with your face shape, skin tone and outfit.
It also doesn't distract from your overall appearance and keeps the attention solely on your natural features. They are almost invisible from afar. So if you are new to glasses and want a pair that won't be too noticeable, rimess is the style for you.
This style is not only popular in prescription but also in non-prescription glasses. People with readers may also benefit from rimless as they won't have a frame blocking or distracting their vision. 
The most-loved frame materials used in both prescription glasses and fashionable non-prescription rimless frames are titanium.
Rimless frames made with titanium material bend easily without breaking. These frames are durable and safest eyewear for people with an active lifestyle.
Most of the contemporary frame designs are made with titanium as this metal is able to bend to any shape. If you are fed up with glasses constantly slipping down your nose due to the frame weight, turn to titanium glasses for a comfortable glasses-wearing experience.
Specscart's rimless glasses collection
Specscart deals in high-quality rimless glasses made with fine lens materials. This popular style is available in different frame shapes and designs to accent your natural features. Order your next pair from Specscart and get 24 hour delivery for your glasses. Find the collection of rimless glasses below.
Salford
Best for a minimalistic appeal, this refined rimless style is the perfect mix of retro and modern. Try this frame in round lenses to keep things simple. Or if you like, go for rectangular lenses for a nerdy or geeky look. 
The silver finish on the temple arms makes it best for both men and women. The thin temple arms painted in shiny silver make a statement of elegance and sophistication. Sport these frames to your college, office, or a date to complete your look.
Islington
This frame is all about retro with the sassy appeal of the cat-eye style. If those bold cat-eye frames were too much for you, the subtle vibe of this frame will do well with you. The brown temple color makes it the best choice for a warm skin tone. These subtle yet sexy rimless glasses frames can be made into prescription or non-prescription eyeglasses and even readers.
Helston 
The classic rectangular shape marries the comfort of titanium frames and Helston is born. The elegant temple arms in silver hue make it an absolute best for cool skin tones. The silver temples will add luster to your side profile catching people's attention. The flexible hinges of these rimless glasses make the frame adjust to your face shape.
Heberlet
Looking for something subtle for your curved face? This is the frame for you. Made with rectangular-shaped lenses, this pair will add structure to your soft features. This rimless glasses style comes in metal, titanium, and stainless steel frame materials. If you want the lightest glasses-wearing experience, try Heberlet style in titanium glasses frames.
Horwich
The finely cut rectangular lenses with a wide nose bridge, adjustable nose pads, and metallic temple arms, this frame is made for everyday styling. Available in four colours namely black, silver, brown, and gunmetal, this style has something for everyone. Get this frame as your next glasses and upgrade your style. Or you can get them as fashion frames or your next pair of readers. 
Hayle 
This frame has a certain charm to itself. Rimless glasses frames mixed with gunmetal frame colour is the must-have in your formal wardrobe. The redefined rectangular lenses combined with glittery temple arms are made to give you a classy appeal. The lightweight titanium frame with adjustable nose pads is made for a comfortable wearing experience.
Hendon 
This classic rectangular frame highlights your natural aesthetic like nothing else. The detailed temple arms in brown colour are made for the 'confident' you. Order a pair of rimless spectacles online and get free protective coatings on the lenses.
Howden 
This timeless style will never cease to be in trend. However, with the addition of rimless frames and titanium temple arms, this pair is the very definition of contemporary. Whether you want a sharp businessman to look or going out for brunch on Sunday, these rimless glasses frames will work well on every occasion. These glasses are carefully crafted for better styling and longer durability and hence the titanium frame. Get this pair in three exotic colours – gold, gunmetal, and brown.
The final word
Your frames don't have to be heavy and exhausting. Rimless glasses are specifically designed to improve your glasses-wearing experience. When paired with titanium frames, rimless makes for the lightest frame type among all the different styles of frames.