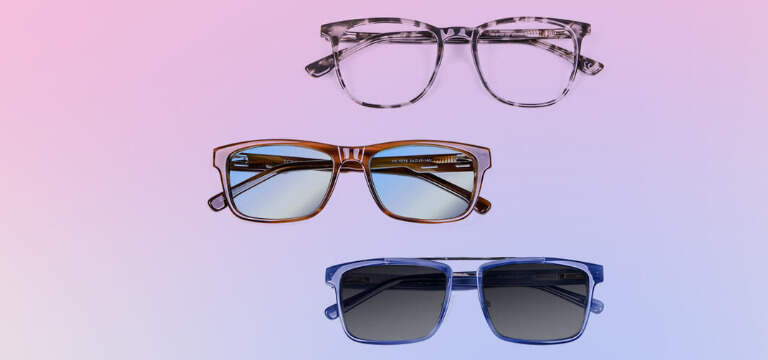 Choose the right glasses colour to complement your style
Got lost in the myriads of glasses?
Or did you again buy the black glasses saying that's your style? 
Don't be boring! Try out some cool tones to make you look adventurous or warm tones to make you look elegant and charming.
Colours can be confusing. Red blue black can make you dizzy. Especially when you feel your skin colour doesn't go well with your glasses colour. Your skin colour can largely affect your look. Some colours or shades just don't mesh well with your skin tone either you are on a lighter shade or darker.
Worry not! We are here to solve this issue with this life-saving (face-saving) guide. In this blog, we have listed the colours according to all skin tones. Whether you are buying glasses for fashion or blue light glasses to protect your eyes, this colour guide is all you need. 
How to know your skin tone
While everyone knows their complexion, knowing the skin tone can be tricky. The most simple and direct way to ascertain it is to look at your veins. If they appear to be bluish or purple, you have a cool skin tone. If they appear to be greenish, you have a warm skin tone. If you can't tell between the two, you most probably have a neutral skin tone.
Light skin tone with a pale complexion
A neutral colour like brown or tortoiseshell goes well with lighter skin tones. Brown is a safe colour that will match most of the situations and pull off a chic style. You can even go bolder with red or purple tones to show off an outgoing and fun-loving personality.
Light skin tone with a pink cast
A cool beige thin-rimmed glasses will give off an elegant and delicate aura. Paired with simple light colored clothes will take it to another level.
You can also try out shades of blue or pink to give off a cool look.
Medium Skin tone or brown skin with yellowish complexion
If you have brown skin, then you have the perfect skin tone to pull off green glasses. Other neutral colours like brown and tortoiseshell also go well with your skin.
Medium Skin tone with a pink complexion
If your brown skin has some tint of pink then you can boldly try blue, purple or the daring red colour. You will look awesome.
Deep Skin tone with golden undercast
A metallic golden frame will look contrasting to darker skin and definitely will be a head-turner. Deep brown, tortoiseshell can also add glamour to the wearer.
Deep Skin Tone
Deep skin tones can pull off bluish off-white glass frames pretty well. You can also wear other frames like purple and black.
Different colours of glasses will give you a different look. With the right combination of glasses colour and style, you can pull off a serious business look or the perfect look for the life of the party. You can choose to be a wallflower or a head-turner. Buy glasses online with Specscart for affordable and yet trendy glasses. You can get cheap prescription glasses without having to hamper your style the least.