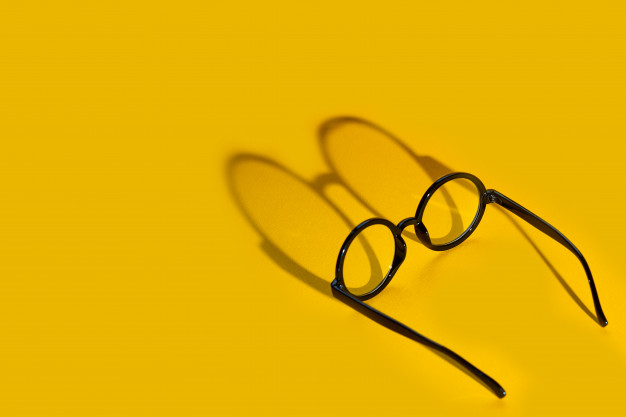 Black glasses don't have to be boring – here's how
When people think of black glasses, the words "boring", "plain", and "simple" might come to mind. But it couldn't be further from the truth! While we are all for experimenting and trying out new styles like tortoiseshell and clear frames, it is time to take a step back and appreciate the OG eyewear style – black glasses. 
In the movies, whenever you have to show a nerdy character or a pre-transformation look, thick black glasses would be used. Growing up, most kids with a prescription would carry a bespectacled look with either black glasses or metal ones. So it's not hard to understand why there is a misconception about black glasses. Although black glasses are extremely common, that is mostly because it's a safe choice and the go to option if you're not looking to experiment. So in this blog, we are going to list a few reasons why black frames are a great fashion choice – and if you are going to buy them, it is because you truly love them.
They're a classy choice
It may be due to the pandemic that people are getting nostalgic about the times gone by or the fashion trends of yesteryears are making a comeback, but people are loving retro looks. That is why round and cat-eye frames have also been so popular. Thick black frames became the norm when eyewear started being made of plastic. Celebrities like James Dean made them even more popular. You can recreate those looks today even with online prescription glasses, wear a black pair with a jacket and denim and you are good to go. If you're a fan of all things classic, you'll love black glasses. Although we encourage you to go for acetate material frames, which are a stronger and more environmentally friendly form of plastic. When you buy cheap glasses online, make sure you're not choosing plastic glasses.
They're versatile
With clothes, watches, shoes, belts, and eyewear, a lot of time while dressing goes into pairing and matching. No wonder Steve Jobs used to keep it simple with his black turtleneck and denim. With black glasses, you don't have to worry about them going well with your clothes. From formal to casual, they suit every shade and colour! You can wear them on any occasion or event. Whether you have an interview to attend or a wedding, they compliment your look just the same. Not just clothes, they also suit all skin types.
Black glasses are forever
Trends come and go, and it's fun to catch the trend train and post photos on social media. But if you want something permanent that won't go out of style, black eyewear is your pick. In fact, with a pair of sturdy acetate frames, you can even replace your lenses without letting go of your glasses for years. You can buy low cost glasses like these online on sites like Specscart. They offer an eternal appeal that will last forever.
Fashionable style
Another glasses style for men that has been around for a long time is smart style, also known as geek chic. Thick, plastic or acetate frames with tall, square lenses characterize this style. If you're looking for a pair of gloriously geeky glasses, we recommend looking at rectangular and pilot styles.
If you're looking for more vintage-style glasses for men, we recommend matching black eyeglasses with a metal frame. Metal frames are known for their lighter weight and refined appearance. If you prefer ultra-classy eyewear, the long lines of black, square metal frames will appeal to you. For the man who prefers a subtle look, then a circular design, either full-rimmed or fully-rimless glasses with a small, black wire frame, might complete your look.
The stylish designer
Designers and artists are often stereotyped as being bold, vivid, and multicolored, but when it comes to personal style, minimalism is the norm for most creatives. Do you want to play a game called "spot the designer" in the office? Look for the man who is fully clad in black. And 4 times out of 5, he'll be dressed like Clark Kent.
Rimless or half rim glasses with black temples are ideal for achieving an ultra-minimalist appearance. You won't find anything better than browline glasses with bold, black brows and brilliant silver rims if you're looking for a little bit of flair.
Different shapes
Even if you start getting a bit bored with the colour, there are various shapes to choose from. You can buy black glasses in round, square, aviator, cat eye or even geometric shapes. It will make sure that you get to experiment, without feeling too wacky.
Every man's wardrobe should include black-rimmed glasses. What is the reason for this? They go for everything because they are so versatile. Black rimmed glasses for men, regardless of frame size or form, have a timeless look that goes with any outfit from any age. Do you need glasses to go with your suit? A pair of elegant black glasses with beautifully round lenses will transform the look from plain to ultra-fashionable. Think of Colin Firth in Kingsman!
Read More – 5 Easy ways to stop glasses-with-mask from fogging up