Best UK startups in 2021| Fastest Growing Company In Uk – Specscart.
Best UK startups in 2021. Every year, we see thousands of business ideas taking flight and thousands of startups seeing the light of the day. From modern healthcare to mobility startups, the UK startup scene has witnessed the dreams of young entrepreneurs aspiring to make it big in the cut-throat marketplace.
Though many of these startups are quite popular in the UK with their exceptional products and services, some of them deal in a particular niche and thus, not many people know about them. We are going to talk about one such startup today that was born to disrupt the eyewear market – Specsart!
If you wear glasses, you might have heard the name already And If you don't, let us tell you about the innovative startup that is going head to head with the biggest players in the industry. If you are looking for the best UK startups in 2021, Specscart should be on your radar.
Specscart: One of the Best UK startups in 2021
What is Specscart?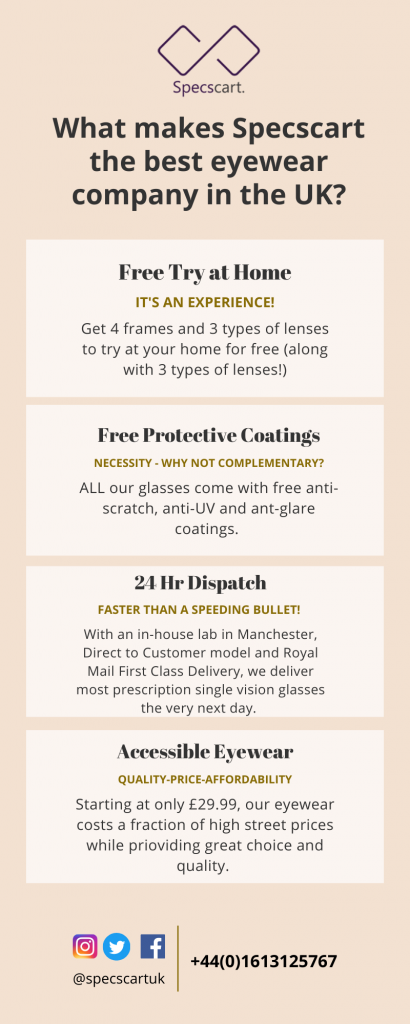 Specscart is a Britain-born One of the fastest-growing companies in the UK & One Of The Best UK startups in 2021. That took flight in Manchester. What started as a general idea by a young student turned out to be this global phenomenon that is sitting well with the millennials.
Specscart aims to change the way people perceive glasses – boring & expensive. It wants glasses to be the next big thing in the fashion market. Specscart aims to prove that glasses can be more than just a medical device used for sight correction.
Almost 35 million people in the UK need glasses. However, the eyewear industry was monopolised and people had to pay heavy prices for a basic pair of eyeglasses. And even thinking about the cost of designer glasses will blow your mind.
Specscart identified this problem and brought a solution and become a best UK startups in 2021 . Not only the glasses at Specscart are fashionable, but they are also affordable. You can get a basic pair of prescription glasses for just £25.00 and that too with the protective lens coatings. The company was quick to become one of the fastest-growing companies in the UK with its quality products, trendy designs and affordability.
Where is Specsart set up?
Specscart has a modern business module and operates through both online and offline mediums. Having one Opticians in Bury & one Opticians in Walkden , Specscart also gives customers the freedom to make offline purchases.
Specscart delivers its products globally to customers all across the world. Its stores can be found in Walkden Town Centre, Walkden and Mill Gate Shopping Centre, Bury.
Though technology has made shopping a little bit simpler, nothing is more assuring than going down to your favourite store and make a purchase. You can talk to the workers at the stores regarding any issue you are facing with your product and be guided by them to make the best purchase.
Specscart's stores are welcoming to its customers. Where you can get what you want and also consult the professional about anything related to eyewear or eyecare. From getting vision exams by the experts to shopping for your favourite style, customers will lock in an interactive and helpful session at Specscart.
The story of Specscart – fastest growing companies in UK
It all came to be when a young student at Manchester University broke his eyeglasses. It was his exam the next day so he had to do something about it. He went to the nearest optical shop which belonged to an eyewear giant.
He was astonished to see that the frames were put behind clear door lockers. If you were to try on a frame, you first had to find a store worker to get the frame out and try. The process in itself is quite a hassle and he thing to startup. But since he needed them, he had no other choice than to select one.
But the disappointment did not end there. He was shocked when he came to know the price. It would almost take up his entire pocket money for a month. But again, no choice! He managed to collect the money somehow and bought that frame only to find that it would take almost a week for his glasses to be made. So, he had no use of those glasses (not for his exam at least).
Problems that Specscart' CEO Siddharth faced that day:
Bad customer experience as he could not try on the frames without having a shop worker take them out from the lockers.
The cost of a basic pair of prescription glasses was sky high (which obviously a student cannot afford).
He had to wait for another 10 days to get his eyeglasses that he wanted on an urgent basis.
Since he was a student in marketing, his mind was always directed towards finding the solution rather than complaining about the problem. So, he came up with the best startup Specscart – where you can buy stylish frames at affordable prices and with a quick turnaround time. Who knew that this idea would one day be among the fastest-growing companies in the UK.
Winning some awards on the way
Nothing feels more rewarding than having your business idea resonate with other people. Specscart must be so proud of its achievements with the awards it has won along the way.
In 2017, the company won the Albert Gubay Enterprise Award. Which got it a small retail space in the Walkden Town Centre. The shop has all the frames displayed on open shelves so the customers can pick the ones they like and try them on. There is no need to look for a shop worker to get your hands on the frame.
In 2018, Specscart turned another milestone by bagging in the Venture Further Award. Siddharth's unique business idea was received well by the judges and the company got cash funding to take their business operations to the next level.
These awards were just an indication that Specscart was on the right path to be a best startups in 2021 and the dream of disrupting the eyewear market wasn't far enough.
What makes specscart unique & the Best UK startups in 2021?
Every business is known for its uniqueness. Those who managed to stand out from the crowd are the ones that truly shine through. Specscart is one such gem of a company that made a place for itself among the best UK startups in 2021. They created a unique business message and conveyed it to all the people that were trying to get a break from the monopoly.
The company does not sell just any frame but only the ones with high quality. The unique thing about Specscart is that it takes the vision of its customers for its own.
Where all the other industry players are working hard to pull their prices up and earn huge profits, Specscart works diligently to pull its prices down. With their in-house Manchester-based lab, Specscart can construct quality eyewear at relatively less cost.
Apart from their quality glasses, Specscart is also famous for its top-notch and customer-centric services. Here they are.
Affordable glasses
Comparing to other eyewear retailers, Specscart like to sell its glasses at affordable prices to make them accessible to everyone. Our eyesight is our most important sensory organ. Specscart understands this and offers sight correction glasses to everyone at low costs. Not only this, but they also offer protective lens coatings for free on every pair of eyewear. You may also buy from a selected range of prescription glasses at 70% less cost than high street stores.
Free shipping
Taking customer satisfaction to some other level, Specscart has raised the bar high and give free shipping. They don't want to burden the customers with extra cost and thus bear all the shipping costs.
Fastest delivery vis Specscart Rocket
It's good to have a company that understands the impatient millennials and deliver things fast. In 2018, Specscart came with the fastest online delivery channel called Specscart Rocket. If you buy your glasses from Specscart, they will be at your doorstep within 24 hours. Guess that the long turnaround time problem has been taken care of. Constantly improving your offerings is the main quality of top innovative startups in 2021.
Free home trials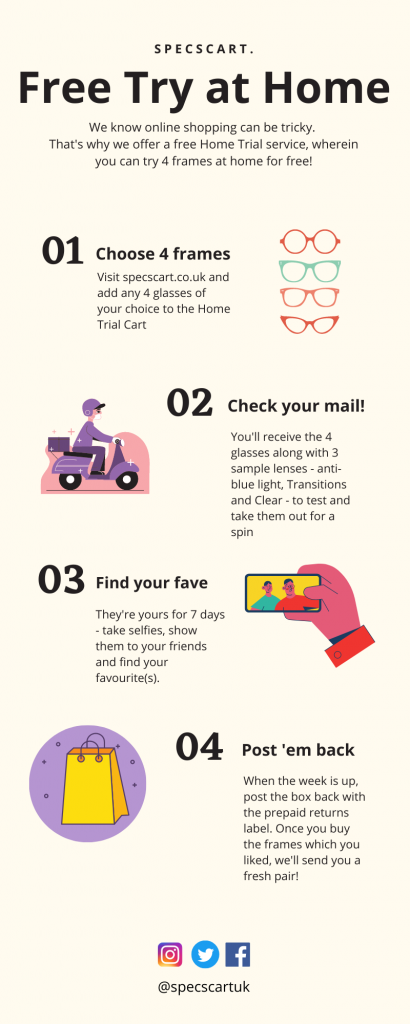 Resolving one of the most common concerns of customers about online shopping, Specscart offers a free home trial for up to 4 frames. Though you will find a virtual mirror on their website, for more personalised testing, you can order up to 4 trial frames at your home without paying any extra cost.
Free eye test
Trying to bring awareness among people about eye health, Specscart also provides free eye tests to every UK resident. You can either book an appointment online or ringing them up on their store's telephone number. If you are too busy to visit their store, you can call them at your workplace and have the test performed.
What do the customers think?
If you have read the online reviews of the company, you will understand why we are saying that Specscart is one of the best UK startups in 2021. In just a short period, the company has managed to win a loyal customer base and garner positive online reviews. Not only do people appreciate the quality of their products, but they also mention Specscart's impeccable services now and then.
What's ahead for Specscart?
Although Specscart is a best UK startups in 2021 which sells eyewear globally, it only has two stores in Manchester. The company is looking forward to opening a big retail space in Bury in July this year. Not only this, Specscart will soon be taking its operations to London with the set up of a physical store in the city.