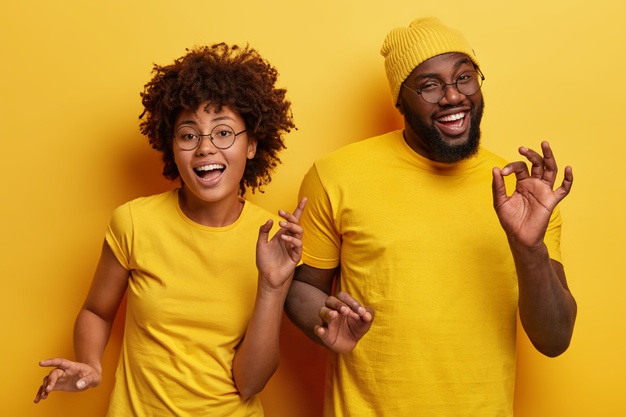 7 new stylish glasses to try this year
The significance of glasses is not just limited to being a medical device for eyesight correction. Nowadays, people like to wear a cool pair of prescription glasses to flaunt their sense of style and earn compliments. 
Even for the people whose vision is still healthy like to rock a pair for a powerful punch of personality and boosting their self-confidence. However, making a strong fashion statement is quite difficult when you don't know what trendy glasses are out there. To help you to look your absolute best, we have compiled a list of trendy women's and men's glasses to buy this year.
Cat-eye glasses
This list isn't complete if we forget to mention the classic cat-eye women's glasses that have stood the test of time and changing eyewear trends. The popular frame style started its journey in the 50s and made a huge impact in the 60s.
Where these glasses used to be chic and seductive up until the late 90s, the 21st century has seen cat-eye glasses in elegant shapes and slightly less bold frames.
Online glasses stores are filled with cat-eye glasses in different materials and colours. The availability of slightly modest frame options has made cat-eye glasses a dearly loved professional accessory for women.
Clear glasses
We know that clear frames have been successfully introduced in both prescription glasses and fake glasses, but they seem to have gained massive popularity this year. After designers have infused this unique style in clothing and handbags, they were ready to take it to the next level and introduce this beloved style in eyewear as well.
These glasses are either crystal clear or have a slight tint. So if you like your glasses to have a touch of colour, these are the ones for you. And if you struggle to figure out which glasses to wear with which outfit, you can benefit from clear glasses as well.
You will find a variety of these glasses online in different shapes so you can pick one that accentuates your facial features like nothing else.
These glasses lack colour and therefore durable. If you wish to buy sturdy and cheap prescription glasses, you can trust this one. 
Oversized glasses
If regular glasses are too boring for you, oversized glasses will give an interesting punch to your appearance. Be ready to get all eyes on you as your large oversized frames will catch more attention.
If you like this style but are not yet ready to commit to its boldness, you can try oversized glasses in transparent frames. They will look more comfortable on your face without looking as if you are trying to make an effort to be interesting. 
Round glasses
 What's been around since the time of John Lennon is still living to be a staple of fashion lovers across the globe. Round frames in men's glasses have a more contemporary appeal. If your facial shape is rather angular, round glasses will suit your natural aesthetic better.
The iconic shape has got a modern makeover with titanium and acetate frame materials. Not only this, round glasses are one of the most sought after styles when it comes to buying prescription glasses.
Tortoiseshell glasses
What makes them the most loved eyewear style is their dual-tone and ability to go with every outfit. Tortoiseshell glasses are a huge favorite among fashion lovers as they have a certain character to themselves that you can safely carry anywhere. 
Whether you are getting ready for a business party or a family function, complete your look with tortoiseshell glasses. Also, you can find these glasses in cooler tones if you look for glasses online.
When buying glasses, make sure you pay attention to the frame shape. Always buy a pair that has what your face doesn't. For instance, if you have a round face with curvy features, you are better off with rectangular or square-shaped glasses.
Wooden glasses
These glasses are stronger and more durable than your regular glasses. Coming in different earthy shades and comfortable shapes, wooden glasses are going to be the next big thing in the eyewear market. 
If you think that these glasses won't be flexible or comfortable, you should give them a try first and find for yourself. We bet you are going to love the experience and also the compliments that they will get you.
Thick black glasses
Being one of the most loved men's glasses, you are sure to find a pair in every man's wardrobe. You can wear these to your office or late night parties and catch eyes and make a powerful fashion statement.
You can find chunky black frames in different shapes and frame materials when you buy online glasses.
The conclusion
Glasses have a lot to offer in terms of fashion and style. Every year, new styles in glasses are introduced that fashion-forward people try enthusiastically. If you want to be the next trendsetter with your glasses, take help from this list.