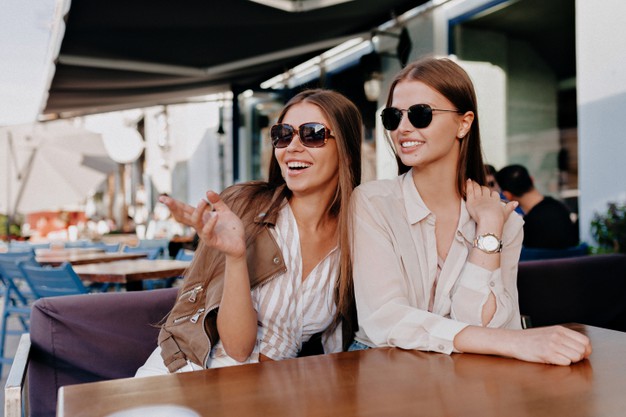 10 Inexpensive & Stunning Women's Sunglasses in the UK this year
If you are updating your wardrobe for this year, then you ought to have sunglasses trending for this year. Your old pair of sunnies will not match your style for this year. Anyway luxurious it sound, you don't have to shed too much weight in your purse. You can get trendy yet inexpensive sunglasses in almost the same style as designer sunglasses online.
1. Chic style in transparent glasses
If you want to change your whole persona, then getting into a chic style is the trendiest look. You will look elegant yet upswept. With minimalist accessory and matching chic clothing, you can change your whole look. And with the right pair of sunnies, you will only add a cherry to the top.
Blue Transparent Wayfarers with green tints
Your chic look will look more mesmerizing with this pair of transparent glasses. Transparent glasses give a different look to different people based on the colour of the skin. And there is no skin tone that cannot match with these crystal clear glasses. Sunglasses in translucent blue add an alluring charm to your face. And with green tints you are unbeatable.
Transparent Orange Wayfarers in Grey Tints
Is orange the new black? Who knows? However, you can wear these orange transparent sunglasses like you wear black sunglasses. These orange wayfarers suit your chic style more than the black ones anyway.
2. Refreshing look with cool aviators
Men have always hogged up the aviator style. They look great in them. Fine, admit it that men look dashing in aviators. But women are nowhere behind. Aviators give a woman a tough look but even more stylish when matched with the right outfits.
You can get these refreshing styles at the same price as cheap sunglasses online.
Brown & Gold Geometric Aviators with Grey Tints
Try these geometric aviators in brown and gold. The shimmer and shine of brown and gold will be attractive when you are outdoors. And the comfortable grey tints will make your outing more enjoyable.
Match them with brown outfits or with denim jackets. You will look refreshing in both.
Black & Silver Geometric Aviators with Dark Green Tints
If you are looking for something to match with your new khakis. Your green tints will fit the most. Wear these black and silver geometric aviators for a bold and adventurous look. The dominant look will not let you look down upon. You will look like the boss. 
Dark Navy Gunmetal Aviators with Grey Tints
Aviators are fun when they are in irregular style. For a tinge of modern touch try wearing these dark navy gunmetal aviators. You will get the tough look you want. 
3. Luxurious Style in Cat-eye glasses
Cat-eye glasses can magically transform you into a young lady. You look significantly younger wearing these glasses. Not to mention the style is so luxurious that you will hardly believe that it doesn't burn your pocket much. 
This cat-eye style is the trendy women's sunglasses in the UK. And will stay in the trend for pretty long. 
Full Black Cat-Eyes with Dark Brown Tints
Full black rims in cat-eye style look great in most face shapes. With brown tints that blend well with your skin tones, you will look alluring.
You can match these pairs of sunglasses with almost any outfit. You can go out jogging in the morning or attend a concert wearing them. You will look upswept and fabulously pretty everywhere.
Dark Black Cat-Eyes with grey tints
These dark black cat-eyes with little wings on the edge will make you look devilishly beautiful. And these sunglasses will match almost all of your outfits.
Gold Round Cat-Eyes with grey tints
If you are looking for something for a party look, a little gold can work out. Try out these round cat-eye sunglasses in gold and black. You will shimmer and shine and can flaunt your luxurious look.
Black Wayfarers with golden pin with grey tints
You can try another black and gold pair of sunglasses in grey tints. This will give you the luxurious look and match up with any of your outfits.
4. Flaunting your bold side with bold red
Red is the most attractive colour. And if you want to attract and flaunt side what else is better than bold red. Try out sunglasses in red for the parties. Whether it is pool parties or beach hangouts. You can stand out with your attractive red sunglasses.
Wine Red Wayfarers Grey Tints
Try out wine red wayfarers. Wayfarers give you an outgoing look and the attractive red colour will make you enchanting. 
Getting a stylish accessory is a must. But it is also crucial that what you get is also efficient. Buy polarised sunglasses with UV protective coating. Only then your sunglasses are worth calling sunglasses, otherwise, they are some decorative pieces. 
And with Specscart, you can get all the efficiency of good quality sunglasses at pocket-friendly prices. So, what are you waiting for? Check out the collection and choose for yourself.