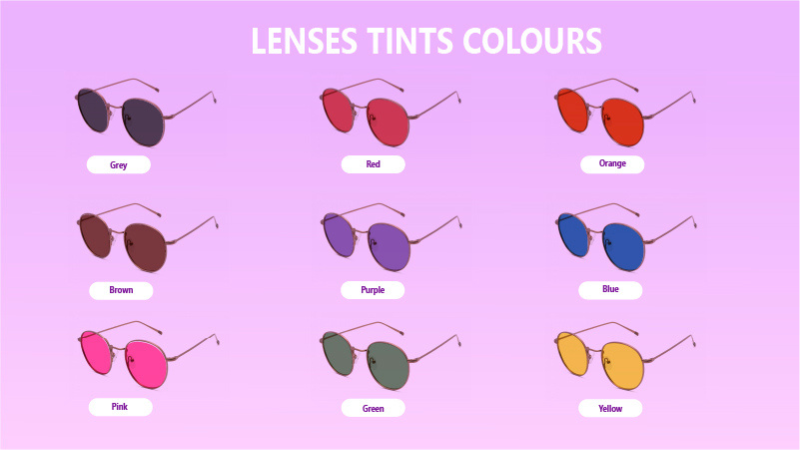 What Are the Various Types of Tints Offered by Specscart?
Specscart, a Manchester-based eyewear brand strives hard to 'change the way people perceive eyeglasses'. By providing high-quality glasses and sunglasses, Specscart makes sure to offer AFrameForEveryGame. Whether you are looking for round, square, rectangle, oval, oversized or cat-eye glasses, this brand has everything to offer. You can pave your way toward their official website and check out the beautiful products at a quick glance. Available in a myriad of colours, shapes and designs, Specscart has got your back through thick and thin. 
Get your hands on the best sunglasses and keep the harmful UV rays, dirt, debris and dust at bay. Also, these gorgeous accessories help you to combat unwanted eye strain and fatigue in an effortless manner. Gone are the days when you had to choose between style and comfort. Grab the sunglasses that are well-equipped with colourful tints and pamper your sight- you can place an order with just a few clicks. 
Are you willing to invest in some of the ever-stylish sunglasses? Chances are high that you are confused about what tint colour you should opt for. Don't worry- this blog is everything about discussing the plethora of tint options offered by Specscart. Stay tuned till the end and gain valuable insights right away. Let's dig deeper without any further delay. 
You will often notice glass wearers choosing grey sunglasses over any other available options. Thanks to this particular tint, getting optimum clarity on both sunny and cloudy days is as smooth as a cakewalk now. Apart from that, sunglasses with grey lenses reduce glare with utmost ease. Let's check out under what scenarios can you choose to put these pairs and slay: 
Golf
Driving
Cycling
Running
Not to forget, grey-tinted lenses help you to deal with true colour recognition. 
Sunnies with brown-tinted lenses come with excellent visual contrast and depth perception. You can choose to sport these pairs in both bright and sunny environments. Cover your eyes with these charming beauties and take a step toward filtering out the blue light. Some of the scenarios where you can don these pairs are mentioned below: 
Fishing
Baseball
Golf
Hunting 
Cycling 
Water sports 
Reducing glare and improving your visual acuity has become easier than ever before. Grab these sunglasses from Specscart without giving any second thoughts at all. 
After learning about the grey and brown tints, it's time to explore the benefits of green tints. Well, these types of lenses offer combined advantages that are provided by the grey and brown lenses. Not only that- shades with green tints extend better contrast when compared to grey ones. You can wear them in both sunny and light conditions- their top-notch versatility makes these sunglasses worth an investment. Some of the activities where green tints can help you out typically include: 
You can use the filter options and check out the green sunglasses present on the website. Read the product descriptions, explore the sunglasses and opt for the best one among the huge pack.  
Are you one of the individuals who like to switch between different kinds of outdoor activities? If yes, think no further and infuse some yellow-tinted sunglasses in your existing shades collection. Apart from keeping blue light at bay, sunnies with yellow tints allow you to grab a crisp vision in low-light conditions. Some of the activities that call for yellow sunglasses are: 
Driving a car in a foggy environment 
Indoor sports 
Activities that happen in the snow
Use them during nighttime 
Say yes to maximised comfort without breaking the bank. The prices offered by Specscart are highly affordable. Brownie points to their free-delivery services. 
By wearing sunglasses with red tints, you can boost contrast in overcast and foggy climatic conditions. Apart from enhancing your driving visibility, these stylish shades offer incredible depth perception. Combat blue light and reduce your eye strain by investing in these trending pairs. Let's check out what activities can be nailed with red sunglasses: 
Skiing
Cycling
Driving or racing
The breathtaking collection at Specscart will definitely make you drool to the core- that's a promise. Look suave and sophisticated, thus turning heads while hitting the streets. 
To be absolutely honest, blue-tinted sunglasses are extremely appealing- resisting them might feel like a real task. Select your favourite pair and add them to the cart. Receive them right at the doorstep, thus reducing glare and enhancing colour perception every time you are out on the roads. Blue sunglasses can be a perfect fit for this handful of activities: 
Golf
Water sports 
Spectating various sports events 
The best part about shopping with Specscart is that they make sure to improve your purchasing experience. You can rely on this brand with your eyes closed. 
Shades that are crafted with pink tints help you to reduce unnecessary eye strain and improve visual clarity. Pink sunnies are totally perfect for these activities: 
Outdoor activities and events 
Driving
Well, one needs to realise that pink sunglasses are not only made for women. Even men can nail their overall appearance and pull off their stunning looks, thus looking drop-dead handsome. 
Again, purple sunglasses are widely preferred due to their ability to reduce glare and boost colour perception. Choose to incorporate these glasses in your styling steps while appearing for: 
Outdoor sports or activities
Fashion events 
Not just some ordinary shades- purple sunglasses are precise and perfect!
Similar to brown and yellow lenses, orange tints are highly suitable for low-light conditions. They are responsible for making things appear way more sharper than they actually are. You can wear them while: 
Driving  
Enjoying indoor activities 
These are some of the tint options available at Specscart. Cater your eyewear needs while looking elegant and graceful at the same time. Shop with Specscart and they will leave no room for mistakes.