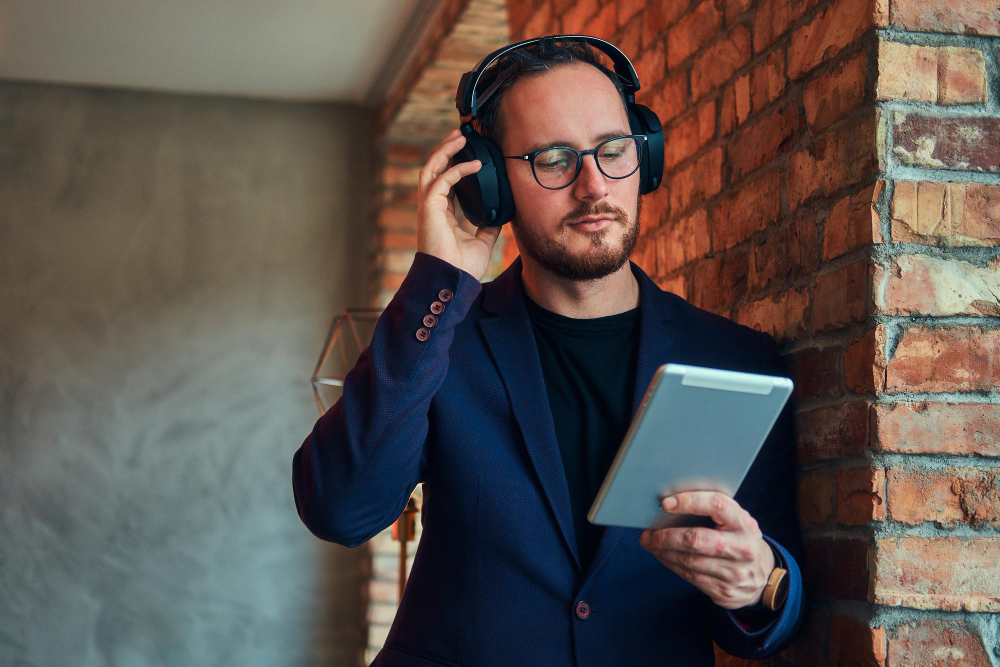 How to Comfortably Wear Headphones with Eyeglasses?
To every glass wearer out there, we understand how challenging it is to wear both your eyeglasses and headphones. To be honest, earphones over glasses often expose individuals to unwanted headaches and discomfort. A lack of a good seal around your ears can prevent you from experiencing immersion and the best bass, thus restricting you from enjoying your beloved tunes and songs. Bespectacled listeners are not supposed to deal with such pity issues- that's why we are here to discuss the tips on 'how you can wear both your headphones and eyeglasses in a comfortable manner?' Let's get started without any further ado.
Choose Glasses That Have Narrow and Thin Frames
When you choose glasses with the perfect frame shape, pairing them with your headphones and staying comfortable becomes a lot easier. That's why looking for glasses with a narrow or thin frame is indeed the best bet. You can easily wear them with your headphones and enjoy the music without feeling interrupted. All you need to do is browse through the internet and add some narrow frames and lightweight glasses to the cart. Roll in your comfy space and with just a few clicks, you can shop for the best pairs.
Opt for Over-Ear Headphones
While sporting your glasses while wearing earphones might sound like a tricky deal, it's definitely not impossible. For an extremely comfortable experience, you can choose to invest your sound bucks in over-ear headphones. These gadgets tend to rest outside your ears, unlike the wired ones that need to be inserted inside your ears. Through this, you will be able to avoid the possibility of any direct contact between your frames and headgear. As a result, it will reduce any unnecessary pressure that is being exerted on your face or lenses.
You Can Lift the Glasses' Temples
Rocking both your headphones and glasses' isn't a big deal, to be absolutely honest. All you need to do is lift your glasses' temple a little bit so that your earphones can rest in the particular position. The best part is that it won't hamper your overall experience. You can enjoy your favourite songs while staying comfortable at the same time.
Look for Headphones that Are Made with Softer Materials
Another tip for every glass wearer will be to look for earphones that are well-equipped with softer materials, like leather or foam. These materials don't dig into your ears or temples when paired with eyeglasses, thus enabling you to opt for an easier experience instead of dealing with any kind of discomfort. But, there is one thing that you need to keep in mind- the headband of the earphone should fit in a comfortable manner around your head and they must be adjustable as well. You can accommodate any type of frame when your headphones are highly adjustable.
Consider Repositioning Your Headset
When you reposition your headset and place it in an ergonomic position, it will instantly allow you to stay comfortable and at ease. If you are looking for ways to deal with sore ears, you can opt for foam covers that are responsible for providing extra cushioning.
Look for Earphones that Have Thicker Ear Padding
Once you find the right piece of headphones, listening to endless songs and enjoying the moment will no longer look daunting. Headphones with thicker ear padding are another trick that makes the overall process easier and more manageable. Thanks to the extra cushioning, you can turn on the music while doing exercises or jogging during early mornings.
You Can Invest in Velour and Fabric Earphones
Last but not least, materials such as velour and fabric ear pads are considered to be your glasses' best friends. Their potential to distribute weight in an even manner is remarkable. Brownie points to the extra layer of padding that feels like a soft breeze on your skin.
These are some of the crucial tips that every person wearing glasses should keep in their mind. Discomfort often leads to migraines, headaches, sore ears and auricular chondritis. To keep this discomfort and general pain at bay, abiding by these tips is a must. Hopefully, this article will help you to make an informed decision before making any purchase.