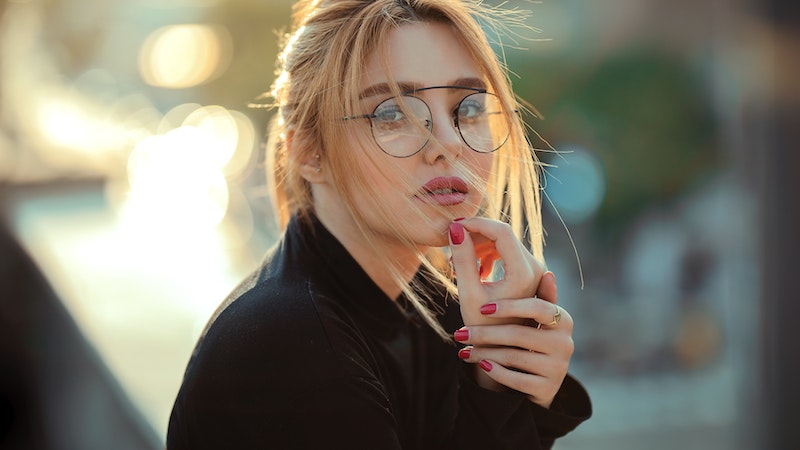 A Quick Guide to Wearing Both Eyeglasses and Eye Makeup
Glasses and eye makeup don't go well with each other- this is a common misconception that needs to be addressed and corrected. Whatever glasses you are wearing, you can always make others drool by doing your eye makeup in a proper manner. Highlight your pretty features and steal the show effortlessly. Looking gorgeous and pampering your eyes at the same time has never been easier before.
In this blog, we will discuss some tips that are related to eye makeup and glasses. If you are not much confident with glamming yourself up, this write-up is solely for you. Let's get started without any further ado.
Say No to Too Much Foundation
Glass bridges and nose pads often leave red marks, dents and scuffs on your face. If you opt for a thick layer of foundation, the dents will become more noticeable- you simply don't want that. That's why it is recommended to limit your use of foundation- overdoing your makeup isn't an option. Consider a matte finish so that your glasses won't slip off from your face or rub off the makeup.
Glasses are responsible for drawing attention toward your eyebrows- groom them and maintain the shape to win half the battle already. To be honest, well-trimmed brows complemented with trendy glasses make heads turn. Make some effort in taking care of them and voila- your eyes will speak louder than your words.
Are you willing to get your hands on delicate, thin and round frames? If yes, make sure to spend some time on your brows and give them a groomed and neat look. On the other hand, rectangular and thick frames hide your eyebrows- you can choose to ignore your brow shape in that case.
Consider Curling Your Lashes
While long eyelashes look extremely beautiful, you need to curl them to avoid unwanted nuisances. Make sure to do the needful before applying your mascara. Use waterproof mascara products to get the best results.
As you already know, glasses tend to cast shadows under your eyes- they can make your eyes look darker. Solution- apply concealer and solve the given problem. All you need to do is use a light-reflecting concealer and that's it- blend it well and evolve as the ultimate showstopper you already are.
Make a Bold Statement with Eye Liners
It's not important to consider simple eye makeup while putting on your eyeglasses. Instead, you can choose to be bold and do absolute wonders, thus being the centre of attraction. Let me help you with some ideas- use coloured eyeliner on your upper lash line and look noticeable. Other than that, you can get your hands on blue or striking brown eyeliner, thus complementing your facial features. Be seen and adored- you have no idea how the combination of glasses and eye makeup can make you stand out among the huge crowd.
Additional Tips to be Considered
Some of the additional tips that you can choose to consider typically include:
You can use a mattifying primer and keep your face condition less greasy. Like this, your glasses won't slide or slip.
If you are highlighting your eyes with mascara and liners, don't highlight your lips in that case. Settle for nude lipstick and you will be good to go.
You can add powder blush to make your cheeks, well, flirty! Look sun-kissed and fall in love with yourself.
That's all! Hopefully, these tips will help you to slay the fashion game and stay on top just like a pro.